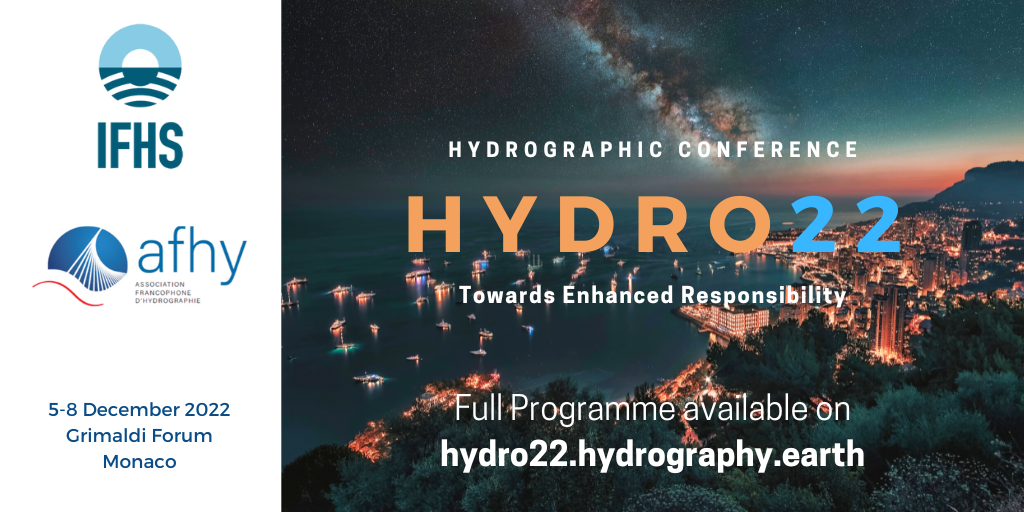 Industrial sponsors:
Press sponsor:
Practical Informations
"Towards Enhanced Responsibility"
Hydro expertise is well recognized as one key to answer our environmental and blue growth challenges…Over the last decades, our work has been reinvented at multiple occasions, from multibeam echosounders, satellite derived bathymetry and autonomous vehicules. These innovations contributed to build a tremendous hydrospatial knowledge.
Meanwhile, our community has grown, attracting younger generations with innovative ideas and eager to enhance our Blue World.
As a conscious community, it also our duty to recognize our role and responsibility in the resilience of our climate, the access of marine knowledge and the sharing of our expertise to the widest audience.
IFHS is proud to announce its next HYDRO Conference after a 2 years absence…For the first time, our flagship conference will be hosted by AFHy, the Association Francophone d"Hydrographie (Francophone Hydrographic Society).
Our initial plan is to gather 350+ professionals and institutions and we have received confirmation from the major hydrographic agencies in Europe, from a Canadian delegation, including CHS and from the IHO secretariat, that they will attend.
#wetheocean
This event is supporters and sponsored by:
Gold sponsor
Silver sponsors
Bronze sponsors
Associated sponsors
Official Press Sponsor